Visiting Hours
Closed every Monday
Tuesday (TUE) to Thursday (THU) 10:00-19:00 (last admission 18:00)
Friday (FRI) to Sunday (SUN) 10:00-22:00 (last admission 21:00)
Ticket Information
Early bird tickets: ¥30 (available for the entire exhibition period)
Advance tickets: ¥55 (available for the entire duration of the show)
Single Pass: ¥80 (Single person with one ticket, available for the whole exhibition period)
Double Pass: ¥150 (for up to two people)
Parent-Child Package: ¥90 (Two persons, one large and one small, for the whole exhibition period)
Student/Senior ticket: ¥45 (students with their student ID (undergraduate or below), seniors over 65 years old with their ID, please purchase at the exhibition)
Ticket Exemption Policy:
Active military personnel, disabled military personnel, military retired cadres, surviving family members of martyrs, firefighters and disabled persons can visit the exhibition for free with valid IDs.
Since the exhibition resumed on March 14, 2020, medical and nursing personnel have been permanently exempted from admission, and can visit the exhibition for free with their valid IDs.
E-ticket entry method:
Holders of e-tickets must present them at the ticket counter at the Pearl Museum of Art and exchange them for tickets after manual verification.
Refund Policy:
Tickets are securities, not ordinary commodities, and the cultural services behind them are time-sensitive and unique, so no refunds or exchanges will be offered for reasons other than performance changes, cancellation, or ticket errors.
How to get there:
Address
8F, Aegean Shopping Park, No.1588, Wu Zhong Road, Minhang District, Shanghai
Subway
Metro Line 10, Longbai Xincun Station, Entrance No. 3
Public transportation
No. 804, No. 721, No. 867, No. 149, No. 931, No. 1 Hongqiao Hub, No. 2 Hongqiao Town, No. 36 Minhang, No. 18 Minhang
Parking
There are three parking lot entrances and exits, vehicles can drive into the basement from Wuzhong Road and Hongjing Road (3000 parking spaces in the basement), which is extremely convenient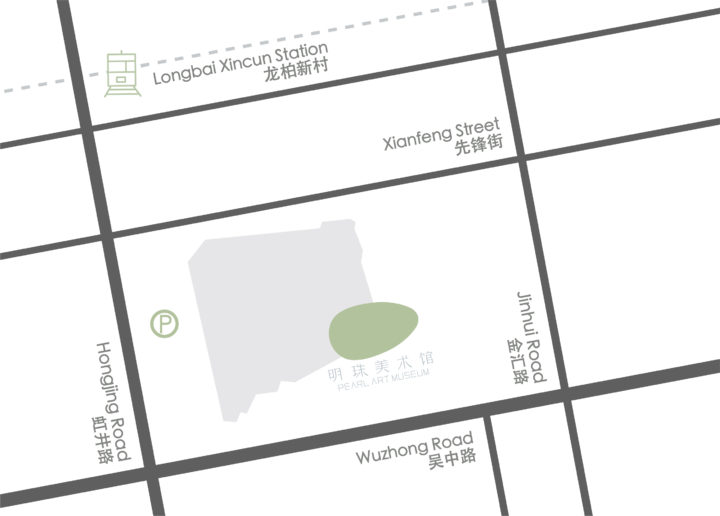 Email:info@pearlartmuseum.org