"Theater of Time: Zhai Yongming's Words and Photographs" at Pearl Art Museum: A Journey Through Life and Art Shown in a Unique Setting Designed by Tadao Ando
From October 19, 2020 to January 17, 2021, Pearl Art Museum is proud to present "Theater of Time: Zhai Yongming's Words and Photographs." Entitled "Theater of Time," this exhibition is the first presentation of the writing and photography of Zhai Yongming, one of China's most important contemporary poets, through an array of manuscripts, photographs, videos, and publications. Showcasing more than one hundred works over seven series, the exhibition reviews Zhai's legendary artistic life and forty years of work from her origins in Chengdu to the present, giving the viewer a rather complete understanding of the development of the muse of the White Nights cultural salon and her ongoing literary and artistic practices.
Presented in the Pearl Art Museum/Center of Light Space, this exhibition is also a special event for the 2020 Shanghai International Poetry Festival. "Theater of Time" coincides with "In the Name of Flower," a group exhibition of contemporary art held in the Pearl Art Museum. Curator and director of Pearl Art Museum Li Dandan said, "This is the eighth exhibition in our 'Poet and Artist' series. This curatorial approach breaks barriers between artistic mediums and departs from the traditional exhibition space. The unique setting, which Tadao Ando designed to be 'surrounded by books reaching the sky,' gives the show a symbolic context and makes up this distinctive 'theater of time' that links literature, art, life, and society."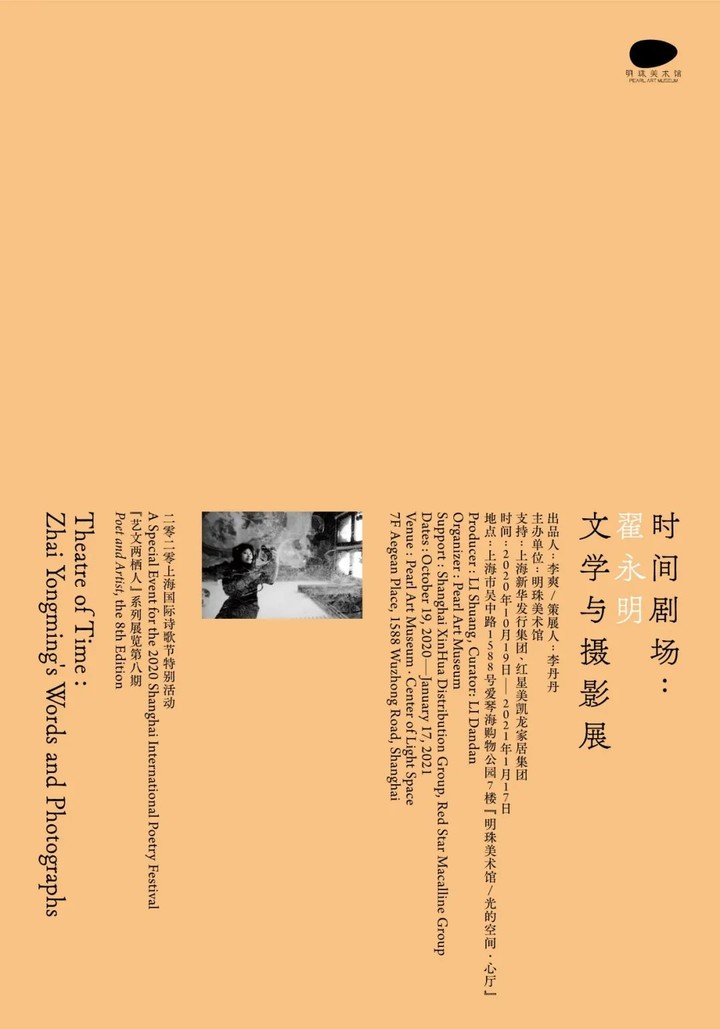 Theater of Time: A New Way of Seeing Forty Years of Artistic Pursuits
"Theater of Time" is a comprehensive exhibition, presenting forty years of my work, literary, photographic, and social. I wanted to call it a "theater"… A "theater of time" transcends the spatial concept of a theater, transforming longitudinal time into space and the point of the individual into the line of time. They finally mingle and weave together to offer a new way of seeing.
-Zhai Yongming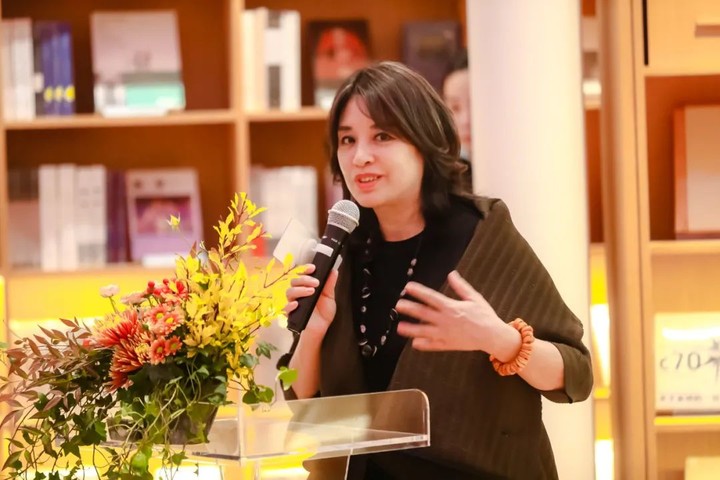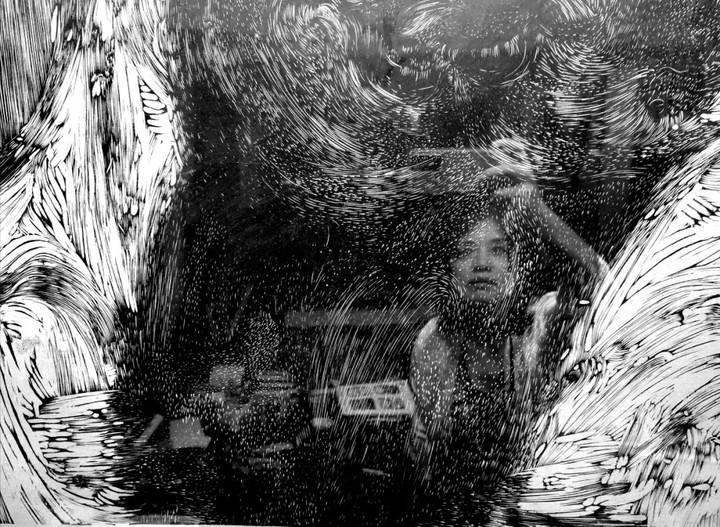 Zhai Yongming is a poet, author, and founder of the White Nights cultural salon. Zhai was born in 1955 in Chengdu, Sichuan province. She published her first poems in 1981, and in 1984, she finished "Women," which would make a splash after it was published in Poetry Periodical. She left her job in 1986 to focus on her writing, and in 1998, she founded White Nights, a cultural salon space in Chengdu. In her decades of creative work, Zhai Yongming has always been intellectually energetic and agile, seeking out new stylistic possibilities. She has presented remarkable work at every stage in her career, making her one of China's most important contemporary poets. Her collections of poetry and essays include Women, In the End I Come Up Short, Interlinear Spaces, Roaming the Fuchun Mountains with Huang Gongwang, Most Tactful Phrases, and Finally It Fades Away. Her work has been translated into English, French, Dutch, Italian, Spanish, and German, and published in those countries.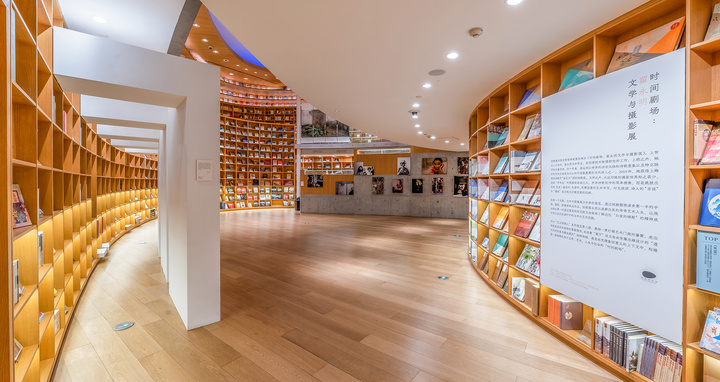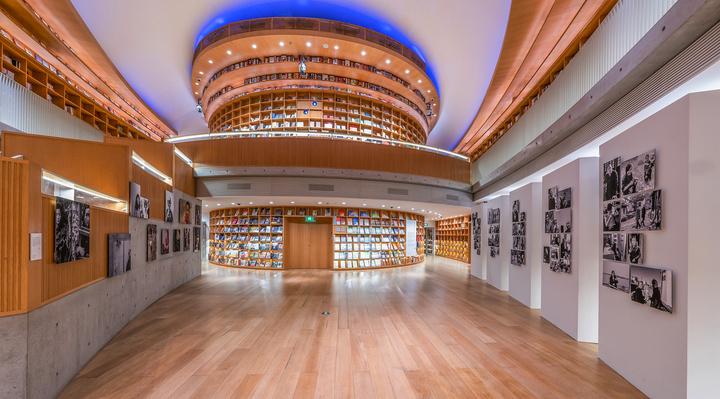 Zhai Yongming's writing is elegant, lucid, and full of tension. In 2012, she won the Ceppo Pistoia International Literary Prize and the Poetry Translation Prize at the 31st Annual Northern California Book Awards. In 2013, she won the Best Author Award at the 13th Chinese Literature Media Awards and she received the Golden Magnolia Award at the Shanghai International Poetry Festival in 2019, presented by noted poet Adonis. At the opening of the 2020 Shanghai International Poetry Festival, Zhai Yongming and Sha Hailin, deputy director of the Shanghai Municipal People's Congress and president of the Shanghai People's Association for Friendship with Foreign Countries, bestowed the Golden Magnolia Award on Serbian poet Dragan Dragojlovic (accepted by Dejan Marinković, Consul General of Serbia in Shanghai, on his behalf).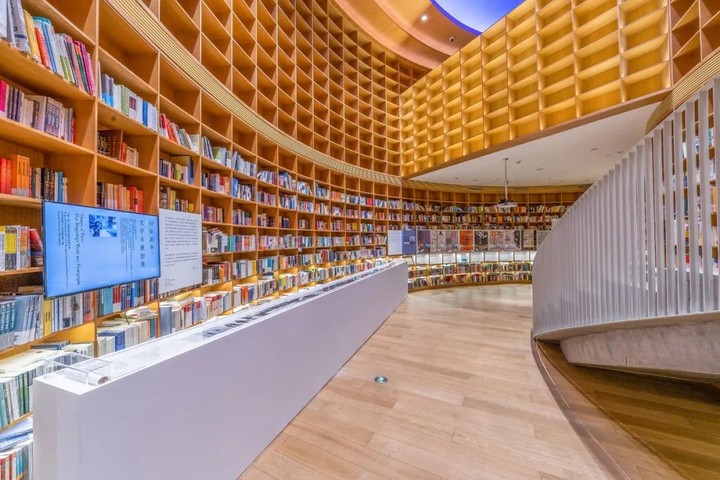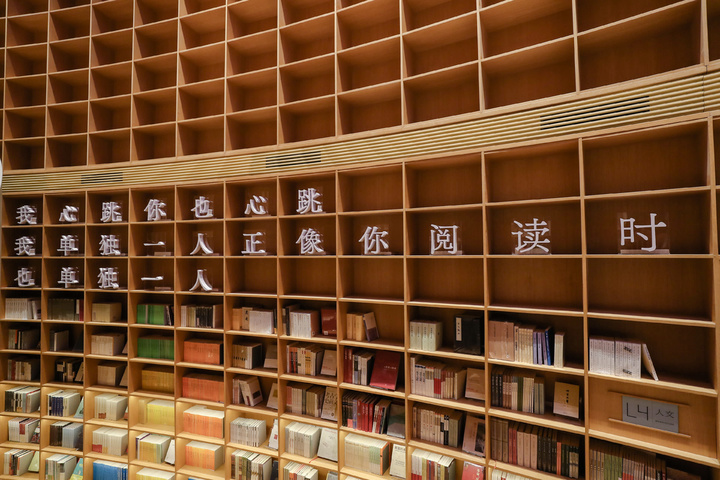 "Her (Zhai Yongming's) life is equivalent to writing poetry. She constructs, in miniature, the forms that are most likely to harmonize with one's soul. It is neither an aesthetic, nor an evil turn in life; it is just the tradition of life itself, a rich reaction… She has no theoretical framework, and she has no need to keep secrets for her imagery," noted fellow poet Zhong Ming. After reading Zhai's recent work, the poet Zhou Zan wrote, "With their profound, sensitive, and keen tones, Zhai Yongming's poems always inspire an internal response in the reader. Reading these sensitive and exciting lines of poetry is like finding yourself in a modern dance theater surrounded by fresh rhythms."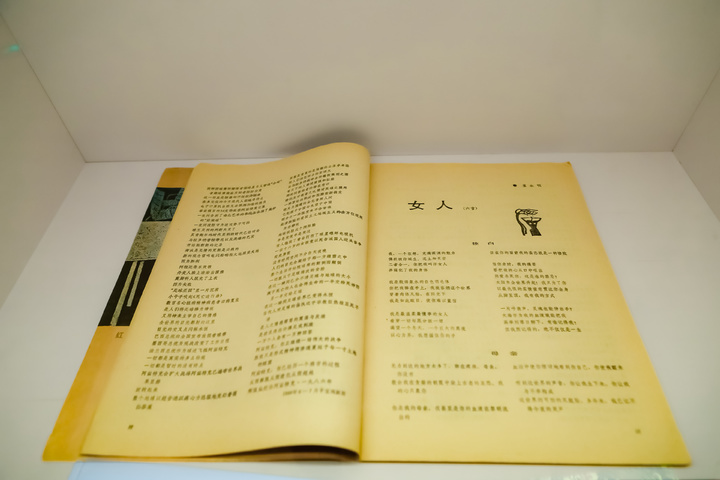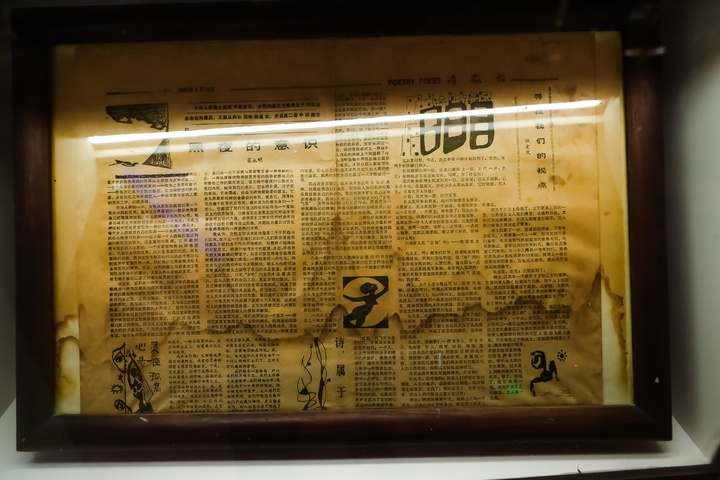 "When I write poems or essays, I use them to discover myself through my own eyes. The words seem like a gift from heaven, just like paint in the hands of a painter or building materials in the hands of an architect… In my writing, the most important thing is the passion for creativity; spiritual freedom is a precondition for our choice to write." In "Theater of Time," Zhai Yongming's forty years of writing is presented through manuscripts, periodicals in which some of her poems were first published, important critical articles, several early unpublished texts, international poetry festival invitations, and other rare first-hand archival documents and publications. The selection includes the 1986 issue of Poetry Periodical in which "Women" was first published, the 1988 issue of People's Literature that first printed "Jing'an Village," and the 1986 issue of Poetic Magazine in which "Black Night Consciousness" was first published, an issue for which Zhai Yongming had long searched and finally found on the wall in White Nights. "These archival materials are priceless to me and showing all of them together gives a general impression of my forty years of creative work," wrote Zhai Yongming in a text for Pearl Art Museum.

Literati Photography: Spontaneous Private Narratives

My photographs are related to my writing, but they are certainly not illustrations for my poems; they reference one another. The majority of the subjects in my pictures are related to issues I care about. In my travels over the years, I have taken many photographs, primarily of women and children. I am not interested in pure landscapes; I have always been interested in people—their actions, expressions, personalities, and the momentary impressions they give me. When I photograph them, I have a wonderful connection with them, and this is the magic of photography for me.

-Zhai Yongming

Outside of literature, Zhai Yongming is very interested in photography, film, theater, dance, and architecture. This is the other side to her life that may be unfamiliar to the public. She has engaged with these "amateur" explorations for a long time, particularly in her photography practice. The pictures are not simple illustrations for her poems; they transcend words to constitute an emotional, personal, and joyous mode of artistic production.

Zhai Yongming's photographic works engage with a rich array of subjects, and "Theater of Time" presents four of these photography series. Monologue, shown on the egg-shaped exterior wall of the Center of Light Space, depicts people she encountered as she traveled, paired with lines from her poem "Monologue." Frida, presented on one side of the front portion of the Center of Light Space, is Zhai's tribute to Mexican artist Frida Khalo. In it, Zhai plays a role in order to tell new stories, and as she emphasizes in the associated poem "To Lan Lan: Magical Dreams Create Reverberations:" "Remember, we are all Frida." The other series in the front portion of the Center of Light Space is Portraits, in which Zhai Yongming trained her lens on the authors and artists around her to capture essential moments in their everyday lives that are not often seen. These portraits include familiar names such as Bei Dao, Xi Chuan, Xiao Quan, Marina Abramović, and Yu Hong.

In the rear portion of the Central Hall hangs the seven-meter-long photo scroll Among Close Friends, which takes its name from a poem by Han Dong. On her phone, Zhai recorded friends she saw at a dual solo exhibition for Han Dong and Mao Yan in November 2018. Referencing The Night Revels of Han Xizai, she collaged their pictures and printed the final piece on photo paper that gives a xuan paper-like effect. Her spontaneous pictures give us a private group snapshot of China's most important writers, poets, and artists. "This playful, spontaneously-captured work is related to the ideas of real memory and private narrative in the contemporary moment. In fact, I believe that this is another form of literary expression, which could be considered 'literati photography,'" said Zhai Yongming.

"Poetry lives in our minds and in our recollections. All secrets lie in time. People often cannot distinguish between creative time and existential time; art exists within these two inextricable parts that coexist silently," wrote Zhai Yongming in "Phrases from the Portfolio." In "Theater of Time," visual memories and artistic fragments are reconstituted using archival documents, texts, photographs, and videos. The film What Happened at White Nights condenses sketches of memory from White Nights, since Zhai Yongming founded the literary salon twenty years ago; it is a poetic recollection with a literati sensibility, reflecting her life, times, and friends. The film also witnesses how the poets, writers, and artists who have deeply influenced China for nearly twenty years lived and worked. "Because of White Nights, I have had more and richer life experiences, both wanted and unwanted. Because of White Nights, I expanded and extended my writing, familiar and unfamiliar. Because of White Nights, I lived to be another person," wrote Zhai Yongming in "White Nights and I."

Poet and Artist: A Growing Interdisciplinary Exhibition Series

In 2017, Pearl Art Museum initiated the "Poet and Artist" exhibition series, which is dedicated to discovering remarkable creatives from around the world, then curating and exhibiting their artistic work, which crosses the boundaries between text and image. With this unique perspective and curatorial approach, the series shows the poetry between the lines and offers the opportunity to take unique risks with the written and visual arts in an exhibition gallery. Past exhibitions in the series include "Interesting, Interesting: btr Art Exhibition," "Milcho Manchevski: Dreaming a Wu Yan Poem," "Painting/Book: 'A Painting Every Day' by Chen Tong," "Chen Danyan on the Road," and "Victor Hugo: Dans L'Intimité du Génie."

"Theater of Time: Zhai Yongming's Words and Photographs" is the eighth exhibition in the "Poet and Artist" series, continuing the interdisciplinary fusion of text and image. Zhai's literary and photographic works are displayed in the core space that links the museum and bookstore, in a unique setting encircled by books. This interdisciplinary fusion is not simply presented in the exhibition; during the three-month show, a diverse array of public education events, including lectures, conversations, creative workshops, film screenings, and symposia focused on poetry, photography, literature, film, and multi-media work, will extend the reach of this exhibition.

During the opening of "Theater of Time" on October 18, 2020, Zhai Yongming and Xiaohe gave an improvised performance, a blend of poetry reading and concert. Eight of Zhai's abstract photographs served as the background, creating a further fusion of literature, music, and visual art. That evening, Xiaohe and his band presented the Nursery Rhyme Program, which echoed the artistic voice of the words and photographs through rediscovered poetic nursery rhymes. On October 19, the first day that "Theater of Time" was formally open to the public, the opening lecture entitled "An Extension of Literature" was held. Zhai Yongming and Tao Ye, the artistic director of TAO Dance Theater, explored sparks of inspiration derived from the collision of poetry, dance, and music. Follow the Pearl Art Museum official WeChat account for more extension events.

<!!-- 预约场次 --!!> <!!-- 相关活动 --!!>