"The past becomes the future, the future becomes the past, and both become the present." -Vilém Flusser
Pearl Art Museum's "Manque de Recul: Interdisciplinary Trends in Art" will showcase more than sixty contemporary artists, including Anti-General, an avant-garde electronic music producer; Chen Fenwan, a paper artist born in the 1990s; Chen Yingjie (aka HuaTunan), the first Chinese ink graffiti artist; Victoria Lu, the first Chinese woman curator making her debut as an artist, and her artist friends (collectively called Viki Lulu House); Lu Yang, a new media artist; Kristy Cha Ray Chu, an artist who paints her toy collection; Xu Zhen®, an artist who has led the development of new culture; and Ye Funa, an artist who explores the boundary between art and everyday aesthetics through nail art.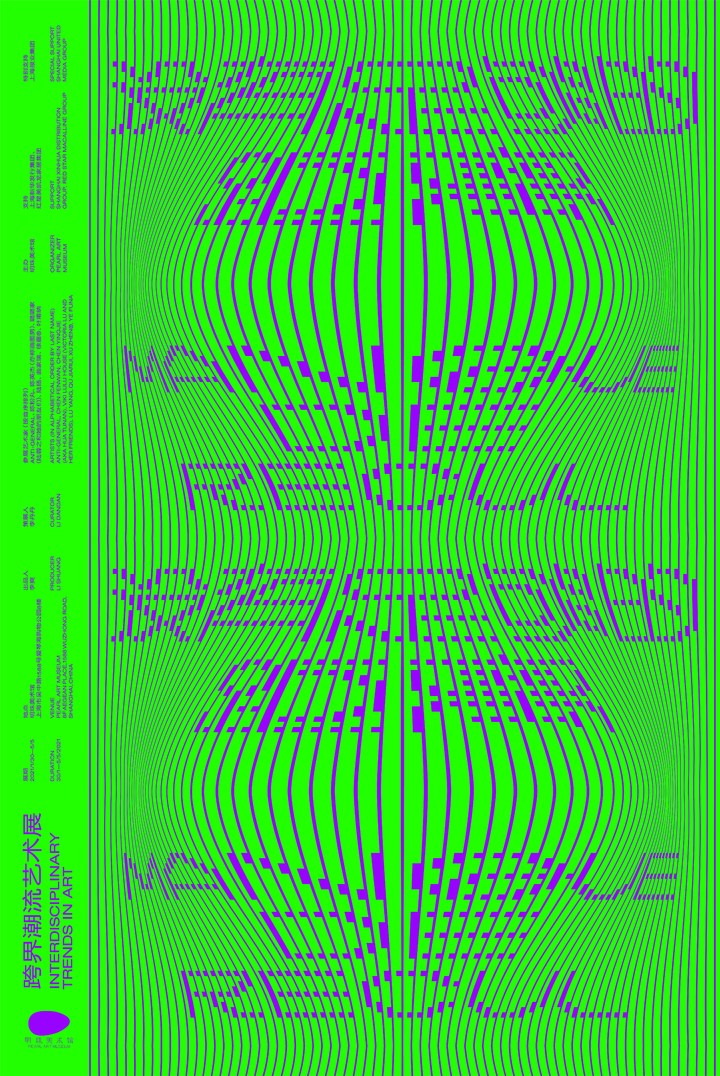 Li Dandan, director and curator at Pearl Art Museum, said, "The work of these artists, who are the restless, attention-grabbing trailblazers in the current art ecosystem, is born into a world that is constantly being reshaped by the internet, technology, and business. These elements, when mixed with the artists' disparate personal tastes, life experiences, and life paths, inform their fresh and distinctive artistic styles." Popular culture, ACG culture, world history, folk beliefs, myths and legends, youth culture, and tradition and innovation are intense, ever-changing sources of inspiration for these artists. No longer constrained by the art world's conventional organizational systems, working methods, and modes of communication, they have boldly blurred or ambiguously created new identities for themselves. They have often worked outside the art industry on interdisciplinary collaborations with brands, commercial spaces, the entertainment industry, and the tech world, creating new artistic trends that cannot be ignored in a world dominated by new media.
At the beginning of this new year, Pearl Art Museum is inviting exhibition viewers to have chance encounters with a vast array of media, including painting, graffiti, sculpture, installation, video, music, toys, garage kits, and performance. If temporal and spatial distance are the preconditions for viewing, understanding, and evaluating art, we do not have sufficient distance from this riotous profusion of works, and as a result, this show is taking a significant risk in sensory and aesthetic experiences and ideas.
"Every new life represents a new beginning." -Byung-Chul Han
"In a new space filled with artistic and cultural energy, I can engage in dialogue with other kinds of artists, which will be an interesting risk." Maverick is the cutting-edge label by electronic music producer Anti-General. At "Manque de Recul," Anti-General will work with graffiti artist Chen Yingjie (aka HuaTunan) on an impromptu dialogue between electronic music and graffiti in the Pearl Art Museum galleries. During the exhibition, Anti-General will also give a live performance at the museum, sparking an intense collision between music and visual art.
"All artistic mediums confront the same issue: how do you find an audience at a given time? People today may think that papercutting is ancient and multi-media is really fresh, but in my view, they face similar difficulties in capturing an audience. For example, in papercutting, I can choose an openwork design, or I can make it move. All artists must confront the challenge of the present moment." Chen Fenwan has been called "a Chinese paper artist with immense potential," and she often combines Chinese folk papercutting and contemporary art, reinterpreting things from a unique, romantic perspective. Infinite is one of Chen's most important pieces. The paper dragon with a head but no tail is supported by a soaring steel structure. Every time it appears in a different space, it grows, reflecting the artist's vision of the infinite in a finite space. For Chen Fenwan, hands are symbols of love. Lucky Garden presents the palm print of every participant in a papercut. The combination and movement of the palm prints become a twinkling, moving array, and the mirror "garden" reconstructs a sense of ceremony in a delicate, sincere form.
"There are no formulas to art, and every work is a breakthrough. When a breakthrough is made at a critical point, a work of art is pushed to its limit." Chen Yingjie (aka HuaTunan) began studying Chinese painting at the age of three. He has explored the combination of classical Chinese ink painting and Western graffiti art in different ways, working to find a balance between two conflicting cultural forms. By casting off cultural restrictions, he established a new artistic language all his own. During the 2020 pandemic, he created Gravity, using collisions between and eruptions of colors to express the conflicts and relationships between people and nature. 2020 Breaking-Loong Series draws inspiration from the martial arts philosophy of Bruce Lee, attempting to build a realm in which Eastern and Western painting styles do not conflict. The Chinese dragon braves the tempests of world culture in an invisible, flowing form.
"Urbart today has already transcended graffiti art or street painting. It is not just the art of an urban space; it incorporates the virtual time and space of social media, transcending the limitations of one's geographic or physical environment. It has become an endless global boundary-crossing, a boundless category that blends the virtual and the real, and a deeper connection between creativity and commerce, which Millennials love. Urbartists are no longer technically-trained professionals; they are participants, formulators, and managers that reflect aesthetics today, and they are a huge group of consumers."
Victoria Lu, the first Chinese woman curator, coined the term "urbart" (a fusion of "urban" and "art"). In "Manque de Recul,"Victoria Lu, best known as a curator, is appearing as an artist for the first time at the age of seventy, presenting doll-like pieces called Viki Lulu Twins. Together with 59 emerging artists, she founded Viki Lulu House on the idea that more and more people will join, until everyone is part of it. Their paintings, sculptures, toys, garage kits, skateboard decks, and digital creations will be presented at the museum, and live streaming equipment will be available to visitors, offering a full experience of urbart's extreme aesthetic and interdisciplinary qualities. In addition to her shift from curator to artist, Victoria Lu's rap debut will take place at Pearl Art Museum, reflecting her vast artistic and life experience.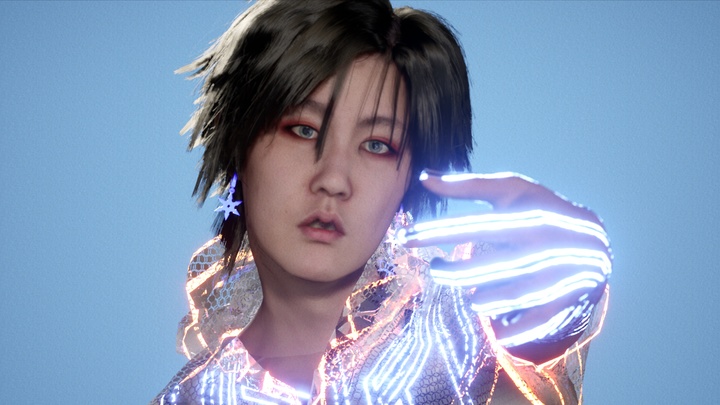 "People in any era will use things marked by that era. I have grown up with these influences, and I naturally use the most familiar things in the work's exterior; the key to the work is not the form, but the core issues explored in it." Works by new media artist Lu Yang are influenced by animation, electronic games, and science fiction. They take the forms of 3D animations, games, installations, and videos, creating a fantasy of real-life forms and god-like nerve structures. In Doku Digital Reincarnation, Lu Yang digitally alters pictures of her body. Using high-definition 3D face scans to capture and reconstruct fifty of her facial expressions, she generates a lifelike composite model. Lu Yang is reincarnated as a digital person named "Dokusho Dokushi," a name taken from the Infinite Life Sutra: "In the midst of worldly desires and attachments one comes and goes alone, is born alone and dies alone." By unleashing the full creative potential of virtual technologies, she blurs the traditional boundaries between art, entertainment, and business, and she explores the ancient history of life, death, and reincarnation and the ways that technology influences death and existence.
"Every toy is a second chance at affirmation. They teach us how to love, how to avoid judging people by their appearances, how to accept people for who they are, how to respect everyone, how to avoid underestimating yourself, how to seize the moment, and how to stop hanging on to regrets." Kristy Cha Ray Chu, the guest who dared to speak on the TV show Kangsi Coming, acts as a university professor, media professional, artist, author, second-hand toy collector, curator, and animator. She has collected more than 2,000 toys, which she paints in her work. "Manque de Recul" presents Chu's beloved toy collection, her paintings of these toys, and the Mini Playground space derived from the paintings. The space contains beanbag chairs with custom patterns, where visitors can play, rest, and enjoy themselves.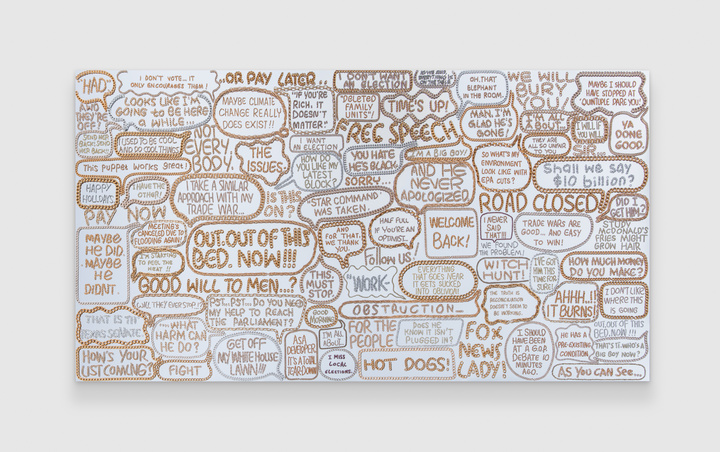 "Nowadays, you are constantly receiving new information. One afternoon, you might receive a text that changes your values, which is entirely normal. I think that artists should not avoid this issue. They should jump into the flood, playing with their era in a very connected way." Xu Zhen® is a landmark figure in Chinese contemporary art, a leader of the younger generation, an artist, a curator, and the founder of MadeIn Company. His wide-ranging body of work involves installation, photography, video, and performance. The phrases and texts in Metal Language were drawn from cartoons in the public sphere, then depicted in metal chains. The text in the pictures is removed from its original context and paired with speech bubbles in various metals. Evoking the relaxed attitude of graffiti, the work is a spiritual portrait of the twenty-first century. I Used to Be Cool and Do Cool Things from Xu's Metal Language series is presented here.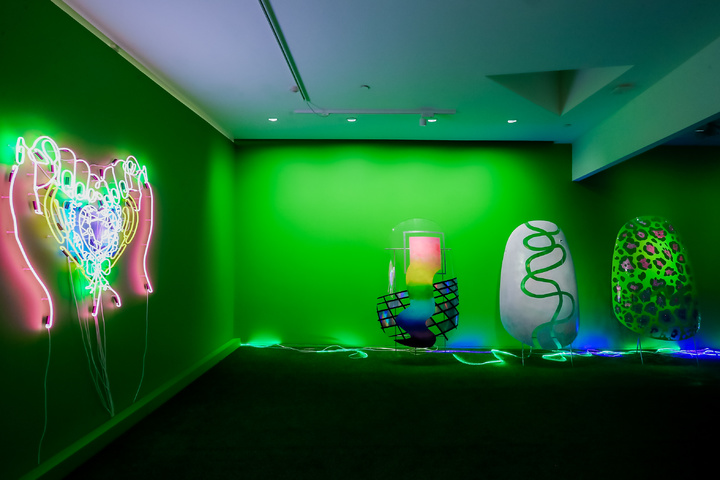 "The art of our generation often incorporates knowledge systems, mediums, and methods that are familiar; we naturally use more video content or web slang." Ye Funa contemplates multiple real connections in everyday life, and she has always integrated approaches from sociological field work in the collection and analysis of her materials, in order to find the highlights in these documents. She cites, parodies, or satirizes techniques from modular culture in order to categorize and manage this archetypal system of formal similarity, thereby analyzing and extending it. The psychedelic Exhibitionist: Curated Nails is a rational examination of women's understanding of themselves and a discussion of the boundary between art and everyday aesthetics. "Manque de Recul: Interdisciplinary Trends in Art" showcases many parts of the Exhibitionist: Curated Nails project, including the Nailhenge: A Small Victory video, Nailhenge LED lights, One Hand Covered by the Sky neon light, and the Nailhengeinstallation covered in various patterns.

<!!-- 预约场次 --!!> <!!-- 相关活动 --!!>