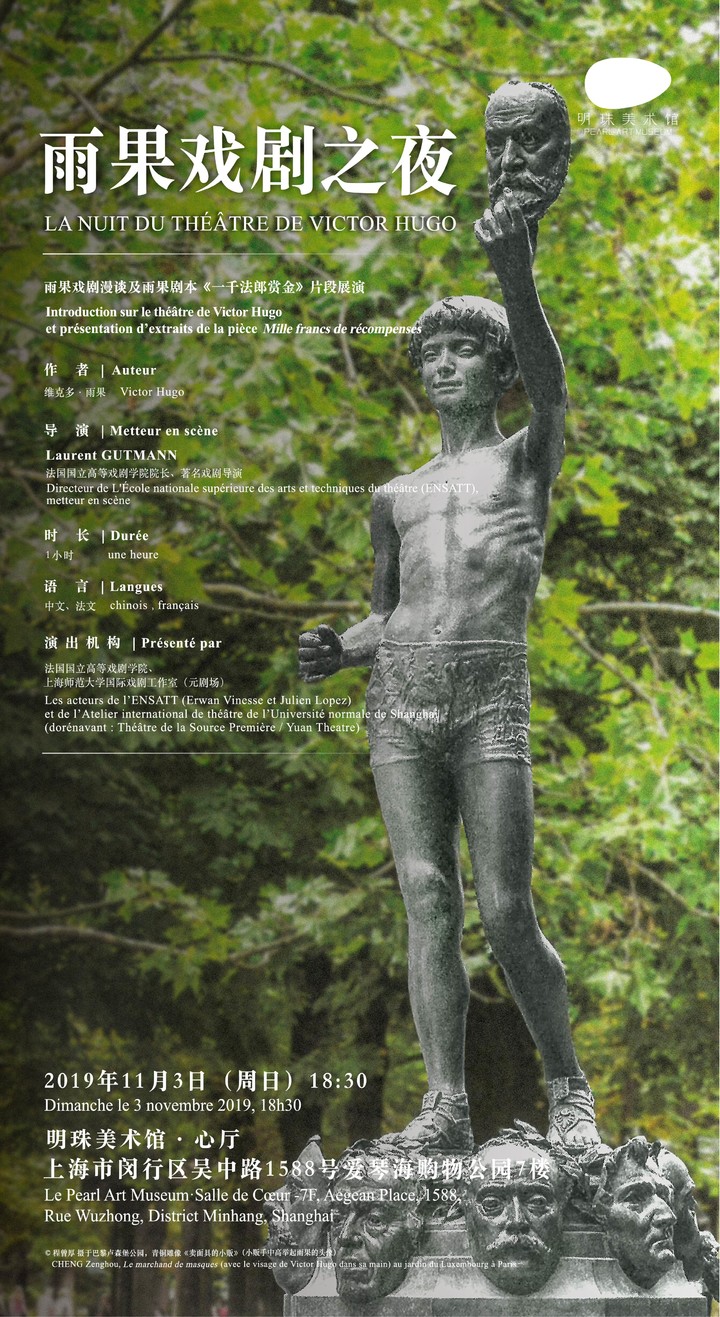 Apart from being a great poet, novelist and dramatist, Victor Hugo is also known as a painter, decorative artist and social activist. Recently, Pearl Art Museum and Shanghai Translators Association jointly held a salon for young translators based on the current exhibition "Victor Hugo: Dans l'intimité du génie". Themed on "Hugo's dramatic works and translation", drama experts from China and France as well as French translators were invited to the salon to offer a multi-faceted analysis on the evolution of Romanticism represented by Hugo along with translation and Yue opera adaptation of Hugo's famous dramas, following the visual art clues from Hugo's dramatic works in the exhibition. The salon enabled a face-to-face interaction between scholars and audience. Together they held discussions on the significance and value of Hugo's drama across different times and regions and delved into the unknown life stories of the genius.
Director Laurent Gutmann delivered a speech before scenes of Reward: 1000 Francs (Mille francs de récompense) were put on stage.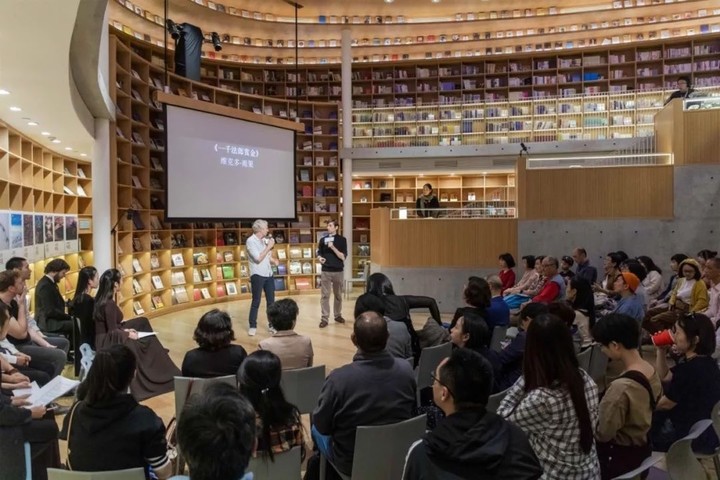 In addition to academic forums, Pearl Art Museum also worked with Conservatoire National Supérieur d'Art Dramatique and the International Theatre Workshop of Shanghai Normal University to present Hugo's Reward: 1000 Francs into which actors from both China and France injected fresh vigor and vitality. The fabulous and engaging live performance immersed the audience into a virtual world created by Hugo's drama. Through a wide variety of theme activities, the museum aimed to go further and take on more roles. As Ms. Li Dandan, the executive director of Pearl Art Museum and the curator of the Hugo exhibition, noted, "We hope to have our museum emerge as a platform where scholars from different disciplines and subjects interact with audience, going beyond fields and deeper into our lives."
How Hugo Became a Dramatist
During the days he worked on William Shakespeare, Hugo wrote down his reflections on the essence of drama, "Drama is a thing of greatness. It's about people, about human beings and about life. One is alone outside the drama. Beneath the bronze mask, there is a face true to life as well as a sense of profound infinity. I see, through the small holes on the mask, not only eyes but also stars."Professor Arnaud Laster, the editor of Hugo's Free Theatre, noted in Pleins Feux sur Victor Hugo that Shakespeare left 38 plays and created 750 characters while Hugo left 25 plays and created 570 characters.
"There are men, oceans in reality," Hugo once commented on Shakespeare. And that is also how we think of Hugo himself. As a pioneer of the Romantic movement, Hugo was first known as a dramatist. Although readers nowadays get to know Hugo mainly through his poems and novels, Hugo's contemporaries knew him largely by the dramatic works in which Hugo brought his literary talents into full play. In 1827, 25-year-old Hugo wrote Cromwell, but it was too long for stage performance. In the same year, he published the Preface to Cromwell which was marked by its novelty and audacity. The preface created a sensation at that time and signaled the beginning of French romantic drama. Hugo put forward, in the preface, that serious drama, as the epic for modern people, should be an infusion of nobleness and comedy, reflect the vicissitudes of life and contradict the classical style. In 1830, Hugo's play Hernani premiered, marking that the historic status of romantic drama was established ever since. His dramatic works, as it were, represented the highest achievements of Romantic dramatic aesthetics.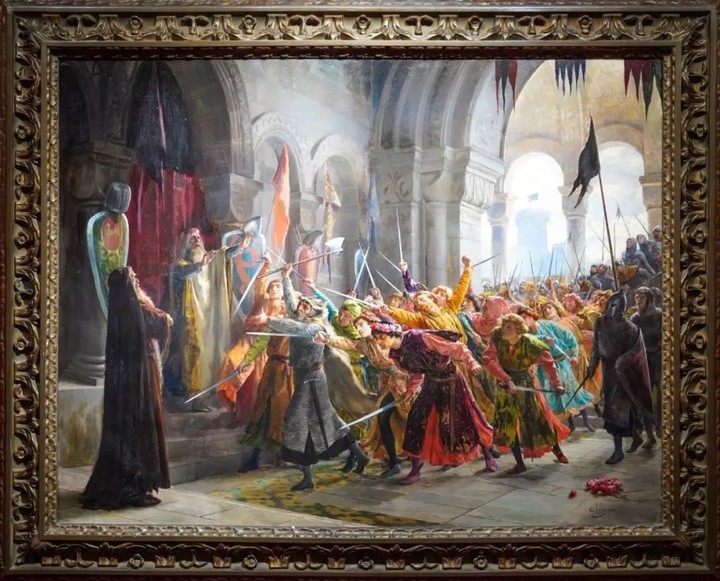 Hugo entered his middle age in the 1930s which was also the most creative and productive phase of his life. During this period, seven of his plays were put on stage, four of which were premiered at the French Theater. Anne Ubersfeld, an expert on Hugo's dramatic works, wrote in Victor Hugo et le théâtre that if Cromwell is "a silver lining", then Hernani is "a battle", and Ruy Blas "a great success". Good times, however, didn't last long. By the year of 1943, Hugo's historical play Les Burgraves premiered at the French Theater. The attendance dropped time and again and the play was forced off stage after 33 performances, which was referred to as "the Battle of Waterloo for romantic drama" by scholar Morris Levoyant. Impulsed by anger, Hugo bid farewell to stage.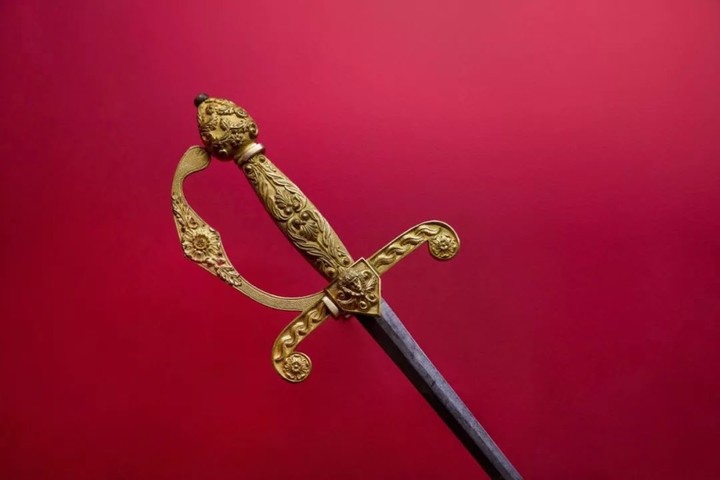 Hugo didn't pick up his pen again until his exile to Guernsey. He created a number of plays during that period. Without any temptations for stage performance, Hugo could write whatever he wanted. Around 1869 (the year The Man Who Laughs was written), Hugo completed several short plays which he later titled as Free Theatre. The collection, featured by its innovations and light touch, encompasses comedies, serious plays, poems, proses, wild imaginations and social realism. In 1886, a year after Hugo's death, Free Theatre was published as his posthumous work. But the book failed to arouse the interests of readers for a very long period and remains widely unknown in China. Reward: 1000 Francs from Free Theatre is a prose drama on modern themes, which is deeply connected with the mental world created in The Miserable Ones, has attracted huge attention. In 2002, the play was put on stage in Beijing to commemorate the 200thanniversary of the birth of Victor Hugo.
he exhibition "Victor Hugo: Dans l'intimité du génie" was open from August 13th to December 1st 2019 at Pearl Art Museum. With over 200 items of Hugo's creation and other related art works (including paintings, sculptures, photographs, books, letters, scripts, domestic interiors, articles of daily use and so on) on display, it was the largest scale exhibition themed on Hugo, among which visual art representations of Hugo's dramatic works were self-evident.
The exhibition selected four most representative dramatic works by Hugo. From the drama debate set off at the premiere of Hernani to the description of its last scene, from the theatrical properties used in stage performances dating back to the 19th century to the depiction of characters in Ruy Blas, from the single portrait in Lucrezia Borgia to the grand scene of war in Les Burgraves, the audience was presented with a visual idea of aesthetics and historic photos from that era through the multi-faceted depiction by Hugo's contemporaries.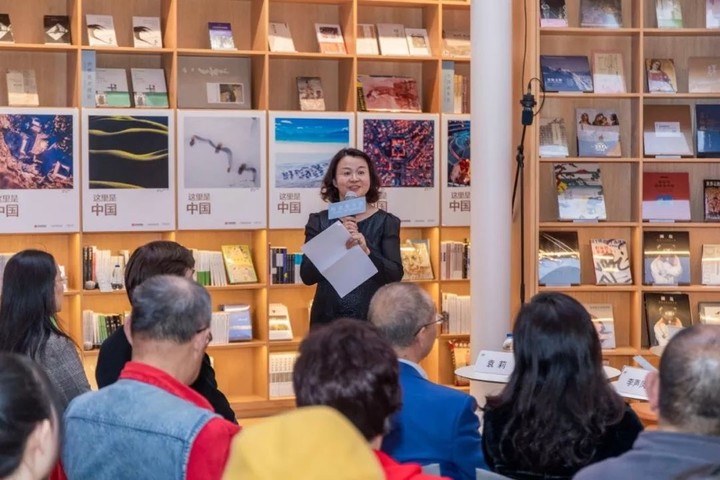 The salon for young translators, jointly held by Pearl Art Museum and Shanghai Translators Association, was themed on "Hugo's dramatic works and translation". Ms. Yuan Li, dean of the French Department at Fudan University and vice chairperson of Shanghai Translators Association, hosted the forum and presented how Hugo's works had been introduced and translated in China within her opening remarks.
Among Hugo's plays, Angelo is the first one that was introduced into China. In 1910, Bao Tianxiao and Xu Zhuodan translated the play from its Japanese version into Chinese (titled Xi Sheng), which has attracted numerous translators and writers to retranslate and adapt it ever since. Zheng Pu, novelist of the late Qing dynasty, translated the play again from the original French version and titled it with Yin Pin Yuan (or literally translated as Xiang Ri Le). Zhang Daofan made some adaptations on that basis into the stage play Di Si Niang, which was performed many times in China.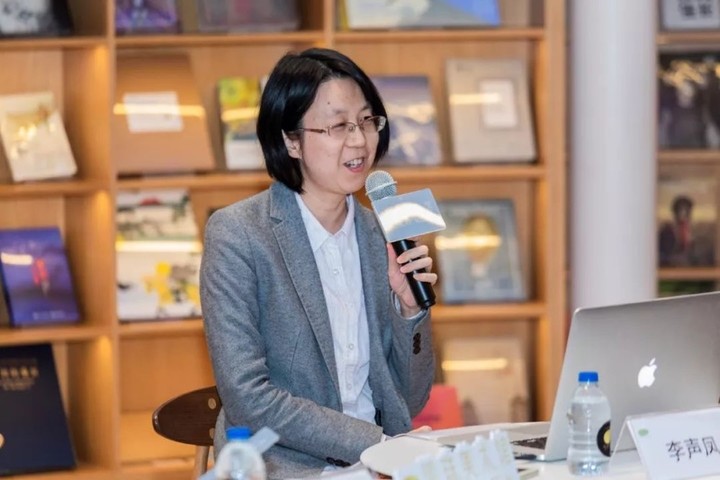 Hero and Beauty, a western court play by the Fujian Fanghua Yue Opera Troupe in the 1950s, a combination of Yue opera and Victor Hugo's play
The first keynote speaker is Dr. Li Shengfeng, member of Shanghai Translators Association and editor at Shanghai Educational Publishing House. As a holder of doctoral degree of comparative literature from Department of Chinese Language and Literature of Peking University and postdoctoral researcher at School of Humanities of Shanghai Jiao Tong University, Dr. Li's current research interests lie in Sino-French cultural exchanges and modern and contemporary opera. In her speech "a combination of Yue opera and Victor Hugo's play", Dr. Li shared with the audience about how Hernani, one of Hugo's famous plays, was successfully adapted into Yue opera Hero and Beauty in Shanghai in the 1950s.
Hero and Beauty is the first ever Yue opera which was adapted from a translated foreign dramatic work and put on stage with actors and actresses in Western costumes. The play, according to publicity at that time, was referred to as "an unprecedented grand event throughout history" and was performed for as many as 50 times. Dr. Li started with the selection of translations and the localizations made in Yue opera script. She elaborated on how the actors and actresses had dressed up and imitated the Spanish aristocrat from the 16th century. Comparisons and extensions were made here by relating to some interesting stories and stage photos of the play. Dr. Li herself has been an amateur performer of Yue opera for many years. She recited the dialogue from the script with Yue opera pronunciation, which won warm applause from the audience.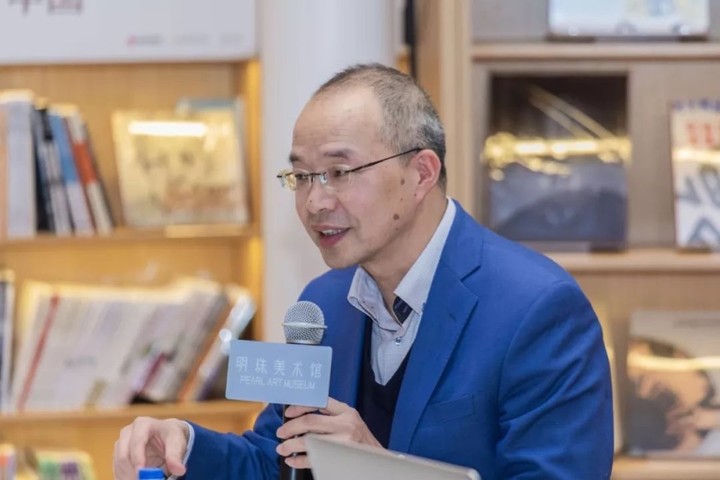 The Reasons Why Good Times for Romantic Drama Pioneered by Hugo Failed to Last Long
The second keynote speaker was Professor Gong Baorong, director of Shanghai Theatre Academy and holder of doctoral degree of theatre studies of Université Sorbonne Nouvelle - Paris 3. He has been a teacher at Shanghai Theatre Academy for many years, offering courses including French drama and art management. His research interests lie in modern and contemporary French drama. In his speech "The Reasons Why Good Times for Romantic Drama Pioneered by Hugo Failed to Last Long", Professor Gong explained that romantic drama, which rose in the first half of the 19thcentury and defeated classicism at one stroke due to the debate set off by Hernani in 1830, enjoyed a prime time that lasted for just a dozen years. What are the reasons behind such short-lived romantic drama despite its far-reaching pioneer Hugo?
Professor Gong elaborated on the cultural, political and economic backgrounds of that era and delved into both internal and external factors that led to the rise of Romanticism. What is Romanticism? Romanticism is, according to Stendhal, something that is loved by the general public and subject to the time spirit. It is something that arouses a sense of joy. The greatest contribution romantic drama has ever made is to get rid of the shackles of classical drama and inject fresh vigor into the theatrical stages in Europe. It cracked down the rigorous limitations Classicism had imposed on tragedies and comedies and stressed the significance of emotionalism and liberalism. The fall of Romanticism was the result of many factors including shifts in times and public interests. Limited themes and exaggerated expressions typical of Romanticism failed to stand up to detailed criticism, without enduring values. All the above are the reasons why romantic drama was short-lived.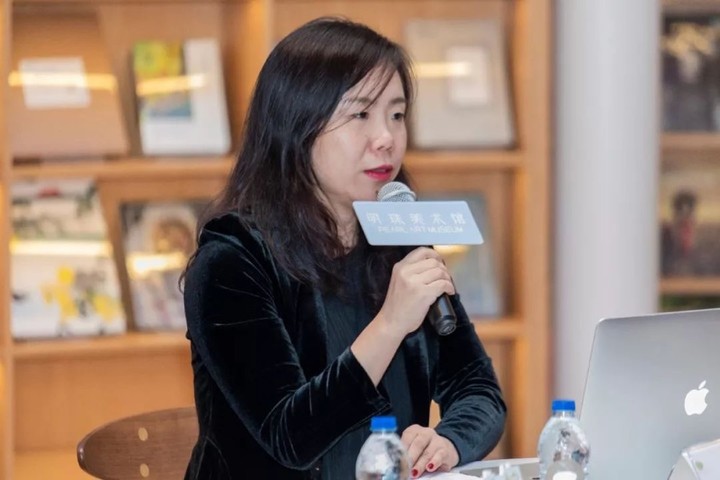 Victor Hugo's Dramatic Works and Visual Arts
"I'm the curator of this Hugo exhibition. Our narrations were largely presented through the selection and layout of works in visual arts. And with all these carefully selected paintings and theatrical properties related to Hugo's dramatic works on display, the audience was enabled to see some great things about visual arts. Compared with script reading, these art forms are more straight to the point and can, to some extent, restore the history in a more objective and lively manner. Apart from contributing to literature through stage art, visual arts can also portray historical moments vividly through reproductions on stage and translate imaginations between the words into various hues and lines."
In her keynote speech "Victor Hugo's Dramatic Works and Visual Arts", Ms. Li Dandan, the executive director of Pearl Art Museum and the curator of this Hugo exhibition, introduced how she had outlined the clues and selected a wide variety of works in visual arts to present Hugo's dramatic creation from the perspective of a curator. In addition to the two explicit clues of time and literature, she also left some implicit clues such as Hugo's plays, poems and paintings to be deciphered by the audience. After elaborating on the clues she followed throughout the organization process, selection of pieces of work and visual representation of them, Ms. Li also shared some anecdotes of the dramatist's creation through which Hugo, a man of flesh and blood, was presented. Welcome to the exhibition hall for the fabulous works that would make your visit rewarding!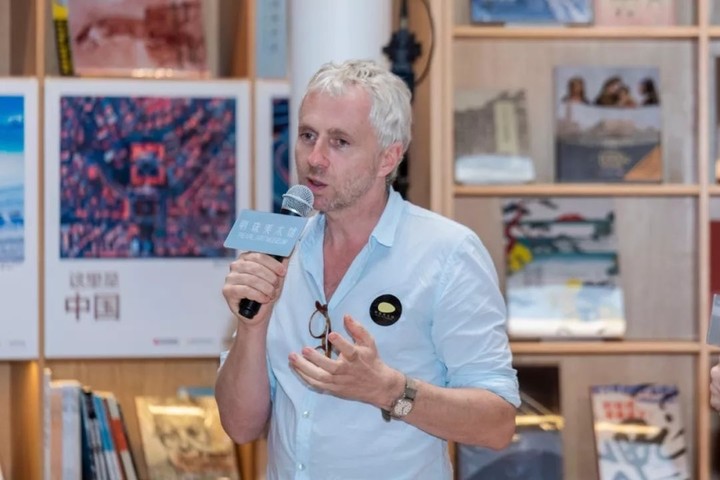 Hugo's Dramatic Works in the Eyes of a French Director
In Hugo's era, his dramatic works were often put on stage in France. But that is no longer the case after his death. What's the significance of Hugo's plays among French readers and audience? In his speech "Hugo's Dramatic Works in the Eyes of a French Director", Mr. Laurent Gutmann, president of Conservatoire National Supérieur d'Art Dramatique and theater director, offered a new perspective for the Chinese audience to get a better knowledge of Hugo as well as his dramatic works.
Hugo's dramatic works, according to Gutmann, tell grand stories but tended to be overplayed, which has been the major difficulty he faced in directing Hugo's plays. He focused on Reward: 1000 Francs which was performed soon afterwards. Reward: 1000 Francs, the longest play in Hugo's Free Theatre, is featured by the twists and turns in plots and numerous characters involved. But the language is relatively simple without too many traces of lyricism present in Hugo's poems. The story is set in France and themed on the relationship between money and society. It criticizes social injustice and is rather a pony edition of The Miserable Ones.
Through the Hugo exhibition and theme activities organized by Pearl Art Museum, Gutmann directed Hugo's play for the first time in Chinese. It's a huge challenge for him both in terms of the Chinese language and the play he worked on. Fortunately, "the broad theme on the relationship between money and society, is pretty easy to comprehend both in France and China, as it is a real-life issue facing all of us", Gutmann commented.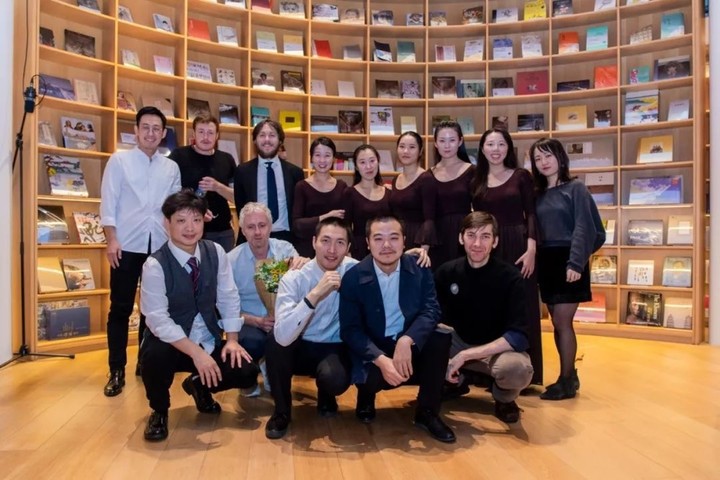 Why We Still Need to Talk About Hugo's Dramatic Works Today?

Wonderful speeches were always followed by in-depth questions from the audience. The topic embarked from Hugo's dramatic works, but was not just confined to drama itself but extended even further into our daily lives. Ms. Yuan Li, host of the forum, concluded with the power of Hugo's plays:

"Why we still need to talk about Hugo's dramatic works today? Compared with novels and poems, dramatic works are in fact more likely to influence an era or a literary genre. The impact that Hugo's plays exerted on the history of French literature is indeed fundamental. And the reason behind that is probably that reading novels and poems is more of an individual behavior while a play boasts a set scenario or scene. If the play is put on stage for 50 consecutive times, it will then introduce a tremendous shock on this era, especially because the theatrical properties employed possess the power to capture one's mind."

<!!-- 预约场次 --!!>